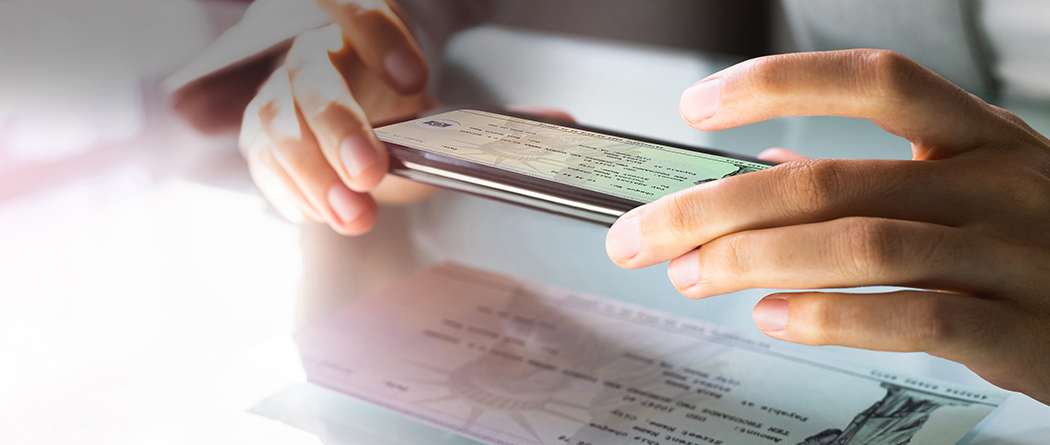 Here are the how to's for digital banking to get you enrolled and set up.
Keen Bank's online and mobile banking allows you to securely manage your personal and business accounts with the latest technology—24 hours a day, seven days a week, no matter where you are. We provide enhanced security with multi-factor authentication for your protection. 
Below are some instructions on common digital banking features. If you have any questions or need assistance, we are here and happy to help. Contact us or use our chat features within online banking or the Keen Bank mobile app during real time business hours.
How do I customize my online banking or mobile app?
Within online banking or using the Keen Bank mobile app, you can easily organize your dashboard. By selecting Organize Dashboard this feature allows you to reorder, add or remove features, making your online banking custom to you.
How do I make a mobile deposit?
To get started, select Deposit Check within the Keen Bank mobile app. Then select the account(s) you want to set up and click Enroll. The enrollment will need to be approved prior to making a deposit by a Keen Bank employee. Once approved, you will receive a message in within the app that you can start making mobile deposits.
Here are a couple of helpful tips when making mobile deposits:
Place your check on a flat, contrasting surface with good lighting when taking the picture of the check

Endorse the check with your signature and print "For Mobile Deposit Only" neatly in the endorsement section on the back of the check as clearly as possible on a single line
How do I enroll in eStatements?
To begin the enrollment process, log into the Keen Bank app and click on the account you would like to set up for eDocuments by clicking on the 
second Documents
 button.
By default, all available accounts will be selected to receive eDocuments. If you want to make any changes to this, click the Details link.
The Details link will show a list of your accounts. You can uncheck any of the options you would prefer to not receive electronically.
Review your email address and if it is not correct, please provide an updated email address.
You will then be prompted to enter a word or security phrase. What you enter will be displayed on all email notifications so you know the emails are from the bank and are not fraudulent.
After you enter your word or phrase, you will be asked to enter an enrollment passcode. The enrollment passcode is used to verify that you're able to view your eDocuments. Click the link to open a sample document that contains the enrollment passcode.
Enter the passcode from the sample document into the Enrollment Verification Passcode field.
After entering the enrollment passcode, you will be asked to review the Electronic Banking Account Statement Disclosure and Agreement. Once you have reviewed it, check the box to agree and then click the Enroll Now button to complete enrollment.
After enrollment has been completed, you will receive an email confirmation containing your selected security phrase in the subject line and will begin to receive email notifications when your eDocuments are ready for viewing.
How do I set up bill pay?
To set up in Bill pay, log in to your online banking or Keen Bank mobile app and click the Payments option in the menu.
Once you are enrolled, follow these instructions to set up payment for bills.
Enter the information from your bill. Please make sure the information is filled out accurately including the phone number of the business and your account number. This must match exactly for proper processing.

If a company is set up to receive electronic payment and the information you enter is accurate, the Payee will be automatically set up to send payments electronically. If not, the payment will go by check. If payments are sent by check, please allow seven days for delivery. 
Once you are enrolled, follow these instructions to set up person to person payments.
Enter the name, phone number and email address.

You will be asked to create a shared keyword for the person to use setting up the account. This keyword should be told to the person you are paying to prevent any fraudulent payee setups.

The payee will receive an email with a link to enter their account information. Once the payee has completed the setup you will be able to schedule a payment to them.

When the payee clicks the link in the email, they will be asked to enter the shared keyword that you have provided to them.

After entering the shared keyword, the payee can then enter their account information through the secure portal. You will never need to see their account information.

 
How do you add notes and images to transactions?
Notes
To add a note, click on the transaction in the Transaction listing and click Add Notes.
Images
To add an one image or multiple images to a transaction, click on the transaction in the 
Transaction
listing and click
Add Images
. To view the image, click on the thumbnail to view it full size.
How do I set account alerts?
Using online banking or use the Keen Bank mobile app, select the account you want alerts on from the dashboard. and select Alert Preferences. You can then set preferences if you want notifications on Credit (Deposits) or Debit (Withdrawals) and enter the amount and the way you prefer the notice to be delivered. Click Add Alert when done.
As soon as a matching transaction hits your account, the alert will be sent out by the method you selected.
How do you set up external transfers from another bank?
Using online banking or use the Keen Bank mobile app and select Transfers from the menu. Click the + External account link. You will be prompted to enter your password.
Enter a name for the external account from a different financial institution other than Keen Bank. This is only for your own use and does not need to be the actual name of the bank or account name. Enter the routing number and your account number. Select if the account is a checking or savings account. Click Submit when done.
The verification process will make two small deposits to your account. This may take a few business days for the deposits to arrive.
When the deposits arrive into your account that is with another financial institution verify them by going back into Transfers in your Keen Bank app or via online banking. Click on the External accounts tab and select the account to verify.
Enter the amounts and click Confirm. Once verified you will be able to setup transfers to and from this account by clicking on the Transfers page and selecting the account from the list of your accounts.
How can I make my debit card inactive?
If you for some reason need to make your card inactive, this is as simple as selecting
the toggle switch after the card name to switch between being Active or Inactive.
Debit cards marked as inactive will deny any transactions made on the card. However, recurring transactions may still go through as well as any deposits. This allows you to
lock a card when you are not using it to prevent any fraudulent transactions. You can also use this to temporarily protect a card that has been lost or misplaced. If you find the card, it is very easy to turn it back on by making it active again.
How do I report a lost or stolen debit card?
Within online banking or the mobile app, click on the card name displayed on the dashboard and the full controls for the card will display. If your card is stolen you can permanently disable it by marking it as Lost/Stolen. Please note that once this is done a card cannot be reactivated. You will need to contact Keen Bank for a replacement card.